Cheltenham Black Morning Tail Suit for Boys
The Cheltenham Collection features five suit options that include Tails, Albert and Edward Frock Coat Suits, Nehru, and Wedding suits.  As well as being available with the classic striped trousers, there is also a black herringbone trousers options.  This wool suit features a self-coloured herringbone fabric that is both timeless in its appeal and very stylish.  The suits look very smart and are also available for children in the Tails, Edward and Wedding suit options.  Whilst the Groom, Groomsmen and Pageboys may wish to achieve a uniform look by all wearing the same style, there is also the option to mix styles within the collection, so the groom, for example, can wear a co-ordinating suit that is different to the rest of the wedding party.  Typically worn with grey single or double breasted waistcoats, Cheltenham also looks superb when you add either a tweed, brocade or check option.  Being black ensures that virtually anything will look good with these suits.
The Cheltenham Tail Suit is not only perfect for weddings, but is extremely popular for more formal Race Days.

There is a wide choice of sizes and fittings to select from in chest sizes from 20" to 62" chest.

We offer a full fitting service at time of booking and can do length adjustments if needed to achieve the perfect fit. 

Our reputation for high standards of service, ensure the men and boy's attire is perfect for your special occasion.  Please contact your nearest branch, or email us if you have any questions.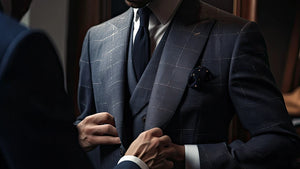 Looking for Individuality?
Our Made to Measure service combines a high level of customer care and an attention to detail to create a uniquiely tailored garment, crafted exclusively for you.
Call to Book Now: