Kensington Grey Wedding Suit for Men
The Kensington Wedding Suit is a grey, lightweight suit that looks stylish and is comfortable to wear.  The Mohair content of the fabric gives the suit a soft sheen appearance.  This style is ideal for those looking for a slimmer fit, but is also suitable for men who need a fuller cut as well.  The peak lapel jacket combines with plain fronted trousers that are modern and perfect for more formal wedding occasions.
There is a wide choice of sizes and fittings to select from in chest sizes from 20" up to 60" chest. We also offer this style in short, regular and long fittings, plus pageboy sizes.

As well as offering a self-coloured waistcoat, there are various other options available that include, brocade, tweed and check options.  There is also an impressive selection of ties, cravats and bow ties that will complement this outfit.

We offer a full fitting service at time of booking and can do length adjustments if needed to achieve the perfect fit.

Our reputation for high standards of service, ensure the men and boy's attire is perfect for your special occasion.  Please contact your nearest branch, or email us if you have any questions.
Independent Since 1928
As an independent, family-run retailer, we're passionate about what we do.
Always here to help
We pride ourselves on providing the best possible service. Need a hand? Any questions?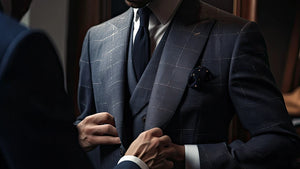 Looking for Individuality?
Our Made to Measure service combines a high level of customer care and an attention to detail to create a uniquiely tailored garment, crafted exclusively for you.
Call to Book Now:
Christmas Jumpers
Our Christmas jumper collection has been thoughtfully curated, featuring Fair Isle, Chucky, and Cable Knitwear. These jumpers are perfect for the colder months and can be worn year after year. If a bright, flashing, fluffy jumper with a bold Christmas motif is not your style, don't worry, we have other options that will meet your needs.
Outerwear
Explore our outstanding outerwear collection and get wrapped up ready for the colder months. Whether you're looking for a smart and stylish overcoat to accompany you on the work commute, or a waterproof jacket to wear when you next head out hiking, we have the ideal outer layer to suit your style and needs. Shop our selection now to keep warm right through the winter!
Rino & Pelle
Rino & Pelle are experienced designers who specialise in creating luxurious, modern women's clothing. They create stunning faux fur jackets, gilets, and accessories, ideal for adding a touch of glamour to a special outfit. At Coes, we have a wide range of Rino & Pelle's women's wear, including knitwear, dresses, skirts, scarves, and hats, among others.
Join Our Community
Stay up-to-date with the latest news, exclusive offers, promotions and events. By signing up you will join our mailing list. You can opt-out at any time.